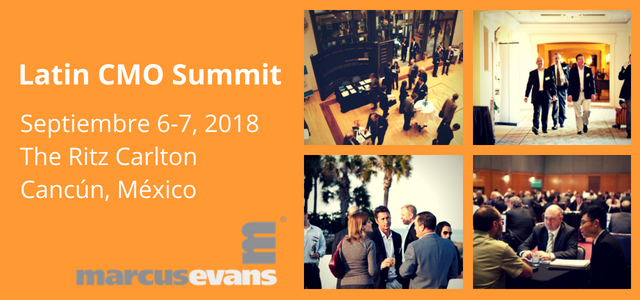 El Latin CMO Summit ofrece a los CMO Regionales, Vicepresidentes y Directores de Marketing la oportunidad de reunirse con proveedores de servicios calificados y les ofrece un entorno íntimo para una discusión centrada en los nuevos y más importantes factores que configuran el futuro de la industria del Marketing en la región.
Su internacionalmente reconocida metodología de reuniones de negocios uno-a-uno proporciona el acceso a los principales Directores y VPs de Marketing que tienen la responsabilidad directa de la toma de decisiones de marketing en su compañía. Esto crea oportunidades comerciales y de networking inigualables para todos los asistentes en un entorno lujoso y estimulante.
Se llevará a cabo los días 6 y 7 de Septiembre 2018 en El Ritz Carlton de Cancún, México.
Visitar: https://events.marcusevans-events.com/latin-cmo-summit-comunicae/
Algunos asistentes de ediciones pasadas incluyen a:
Head of Strategy, Google
VP de Mercadotecnia, PepsiCo LATAM
Head of Digital Marketing, Phillips LATAM
Marketing Manager, Uber
Marketing Director LATAM, Universal Pictures
Head de Marketing Digital & Brand Communication, AVON Cosmetics
Marketing Director, Coca Cola y muchos más
Si se asiste:
Se disminuye el tiempo que se invierte en la búsqueda de nuevos negocios para la empresa y acorte los ciclos de desarrollo profesional a través de un formato eficiente.
Es posible llevar a cabo reuniones de negocios individuales, previamente planificadas con los tomadores de decisiones de la región.
Reunirse con 10-15 contactos y lograr entre 6 y 12 meses de esfuerzos de ventas estándares en sólo dos días.
Los asistentes se beneficiarán de presentaciones clave visionarias, casos de estudios reales y sesiones interactivas. Adicionalmente, podrán interactuar en las sesiones uno a uno, pausas de café y noches de cocktail, todo esto, en un resort 5 estrellas.
Para obtener más información, visitar la página web: https://events.marcusevans-events.com/latin-cmo-summit-comunicae/ o ponerse en contacto con alejandrad@marcusevansmx.com